NAYA, ONAC deliver funding lifeline to small businesses
Last summer, the Portland City Council approved a plan to distribute $114 million in federal CARES Act relief to the community. City Council allocated $3 million to be awarded as block grants to community nonprofits targeting hard-to-reach entrepreneurs.
NAYA, in partnership with the Oregon Native American Chamber (ONAC), was selected as a block grant recipient to disburse a portion of these funds. In November, NAYA and ONAC awarded 81 grants to BIPOC-owned local businesses.
NAYA Cully Boulevard Alliance (CBA) District Manager Eron Riddle explained the urgency of the grant funding, "Previous CARES funding made available during the pandemic did not necessarily make it to small business owners of color. If it was not for the efforts of CBA , NAYA, and Our42nd, many of the BIPOC-owned businesses we serve may have gone the way that many others have throughout Portland and the nation."
We know business owners of color have been hit harder by the impact of the pandemic. NAYA is honored to support their vital role in the community. Below are a few awardees' sentiments on what this support will mean for the future of their small businesses.
Michelle Week, Good Rain Farm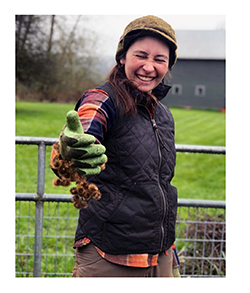 I am blown away with the generosity and am forever grateful to have been selected to receive the NAYA Small Business Grant! Farming always demands quick, decisive action and creativity, but amongst climate change, a pandemic, and a social awakening it has been more difficult than in years past!
As a farmer my focus isn't just on supplying healthy, nutritious, and culturally relevant foods to our community. It's also on revitalizing cultures by making produce available to BIPOC families and by facilitating scholarships for those in critical need. With this support we can continue to feed our community, purchase equipment to support the growing demand for local food, and better weather this year's many unforeseen purchases such as PPE and online ordering and contactless delivery. It's essential we continue to feed and protect our community together. Thank you!
Stephanie Lynn Smith, S.L.S. Native Couture Designs, LLC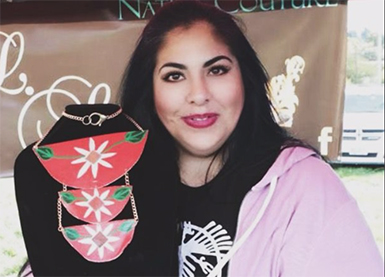 Just when the COVID crisis struck, I was building my business. I had just graduated from business class. Everything productive for my business came to a halt. But with NAYA's business class and great instructors, I was able to continue and move forward,and become more reassured in my future being a business owner. I am very grateful for these community resources for minority business owners.

JC Aguirre, La Tierra Jewelry
Thank you to NAYA for your help during these difficult times. Due to the pandemic and to my health problems, I have not been able to work this year and am so grateful for the financial assistance. Without your help, I would be struggling even more. I am looking forward to the day when I can again share my love for the precious stones I cut for jewelry with others who also love that beauty and connection to the Mother Earth. Until then, I will sleep a little better at night and breathe a little better in the daytime, thanks to your help and support.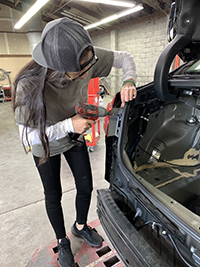 CBA and NAYA have helped our 22+ year-old mom and pop body shop stay afloat during this pandemic. We cannot thank you enough. It's been a tough year. And it's even tougher with the second shut down.  We have dropped in volume and on top of that, we unfortunately had to furlough most of our employees. Stressing and worrying on how to cover next month's operating costs is already a burden. CBA and NAYA have been amazing with their constant check in during the padmenic from providing updated resources to grants.  We would not be here today if it was not for their generous help and support as well as connecting us with their partners.
These sentiments have been echoed by others. NAYA Business Development Coordinator Santiago Vasquez elaborates, "All NAYA entrepreneurs who have benefitted from these grants have expressed tremendous gratitude for the opportunity to keep their businesses going thanks to this crucially needed capital. It's especially heartwarming to hear them thank us, not so much for themselves, but on behalf of their counterparts and our local Native business community, generally. The financial support is huge, but even more meaningful to them is the affirmation that they are part of a vital community, and that somebody has their back."
As always, NAYA encourages you to support Native-owned small businesses, especially as you do your holiday shopping. Mercatus has compiled a directory of Indigenous-owned businesses during Native American Heritage Month. It includes many alumni of NAYA's Microenterprise Program and is a great place to start.
---