NAYA's policy efforts include engagement in city, county, and state-wide campaigns to address affordable housing/houselessness, economic development, health, and environmental issues in our community.
Local Policy
Our team of policy coordinators actively participate at City and regional policy tables to ensure there is a Native voice and perspective included in the policy-making processes. For example, NAYA advocates for the needs of the urban Native community in the budget-making processes at Multnomah County and the City of Portland.
COP 2021 State Legislative Agenda
COP 2021 Federal Legislative Agenda
State Policy
NAYA's Advocacy and Policy Leadership Team sets a state-wide policy agenda ahead of each legislative session with the approval of NAYA's Board of Directors. Our legislative priorities are based on community needs that we perceive through feedback and data from around Native American and Alaska Native communities. NAYA staff spend time at the state capitol to advance our legislative agenda.
2021 NAYA Legislative Agenda
Updated April 3, 2021. Click here to track the latest status of the bills on NAYA's policy agenda, listed in detail below.
EDUCATION
HB 2590 Student Success in Higher Education
Establishes Task Force on Student Success for Underrepresented Students in Higher Education.
HB 2835 College Benefits Navigator
Requires community colleges and universities to hire benefits navigator to assist students in applying for federal, state, and local benefit programs.
HB 2052 Tribal Regalia
Requires school districts to allow students to wear Native American items of cultural significance at public school events, including high school graduations.
ECONOMIC DEVELOPMENT AND PROSPERITY
HB 2551 / SB 82 Oregon IDA Initiative
Establishes the Individual Development Account Fund – General fund of $7M
HB 2563 Oregon Growth Fund
Governor's Budget Request $10M to grow capital ecosystem and promote economic development. Creates access to capital for small businesses and entrepreneurs who currently lack capital.
HB 2009 Foreclosure Moratorium
Establishes temporary limitations on lenders' remedies for borrowers' failures to make payments on obligations secured by mortgages, trust deeds or land sale contracts for certain real property.
HB 2678 Ranked Choice Voting
Establishes ranked choice voting as voting method for selecting winner of nomination for and election to nonpartisan state offices and county and city offices except where home rule charter applies. Establishes ranked choice voting as voting method for selecting winner of nomination by major political parties for federal and state partisan offices.
HOUSING AND HOMELESSNESS

HB 2544 Unaccompanied Homeless Youth
Funding request to support homeless students and families by distributing funds to organizations that operate host home programs as well as expanding shelters and services.
HB 2842 Healthy Homes
Establishes Healthy Homes Program within the Oregon Health Authority to provide grants to entities to provide financial assistance to low-income households and landlords.
HB 2100 Review of Housing Related Laws
Works to modernize Oregon's Housing Stabilization System to improve deployment of funds, minimize disruption in services, increase availability of culturally responsive services, align state statute with federal statute, and advances toward building an outcome-oriented system which is data informed.
HB 2163 Rental Assistance
Establishes long term rental assistance program within the Housing and Community Services Department. Establishes Rental Assistance Fund to fund program.
HB 2163 Long Term Rental Assistance Study
Establishes long term rental assistance program within the Housing and Community Services Department. Establishes Rental Assistance Fund to fund program.
SB 79 Addressing Racial Disparities in Homeownership
Authorizes Housing and Community Services Department to provide grants and technical assistance to organizations increasing homeownership program access to persons of color.
SB 5505 Local Innovation Fast Track Funding Request
Establishes amounts authorized for issuance of general obligation bonds, revenue bonds, certificates of participation and other financing agreements for biennium
SB 8 Land Use Planning for Housing
Limits the standards and conditions of approval that local governments may apply to certain affordable housing. The bill requires local governments to allow development of certain affordable housing on lands not zoned for residential use.
FAMILY WELFARE
HB 2510 Safe Gun Storage
Requires owner or possessor of firearms to secure firearm with trigger or cable lock, in locked container or in gun room. Requires person to report lost or stolen firearm within 72 hours of the time a person knew or reasonably should have known of loss or theft.

HEALTH AND ENVIORNMENT
HB 2528 Licensing Dental Therapists in Oregon
Directs the Oregon Board of Dentistry to issue dental therapist licenses to qualified applicants.
HB 2475 Energy Affordability
Authorizes Public Utility Commission to consider differential energy burden and other inequities of affordability in rates.
HB 3089 Water Utility Assistance
Establishes Public Drinking Water and Sewer Ratepayer Assistance Fund for water and sewer bill pay assistance.
HB 2995 100% Clean Energy for All
Requires 100% of electricity sold in 2035 to be clean energy.
HB 2088 Traditional Health Workers
Requires the Oregon Health Authority to adopt by rule qualification criteria for tribal traditional health workers as additional category of traditional health workers.
HB 2377 Declares Racism as a Public Health Crisis
Requires state agencies and third-party contractors that collect demographic data on behalf of state agencies.
SB 555 Double Up Food Bucks
Requires the Department of Human Services to contract with nonprofit organizations to implement and administer programs to assist recipients of SNAP in purchasing locally grown fruits and vegetables from farmers' markets, farm share sites, and retail outlets that participate in the program.
SB 587 Tobacco Retail License
Requires the Department of Revenue to issue licenses to qualified retailers of tobacco products and inhalant delivery systems.
Community Advocacy
NAYA's policy and advocacy team wants to help you to be more involved in decisions that directly impact the Native American and Alaska Native community. We do this through a variety of engagement efforts throughout the year. We provide a list of endorsed measures that have gone through an extensive approval process. This process includes the policy team providing research and materials on how it will directly impact the Native American and Alaska Native community. Community members will have an opportunity each legislative cycle to provide testimony on the above endorsements.
2020 GENERAL ELECTION NAYA ENDORSEMENTS
NAYA's board approved the following ballot measure endorsements for the 2020 General Election.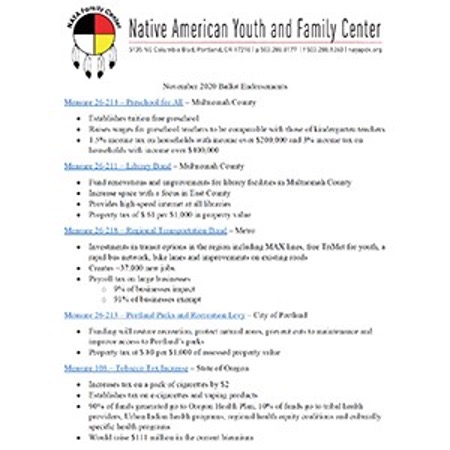 NAYA's Advocacy Team is available to support you in making your decisions and any questions you may have about the election.