NAYA's policy efforts include engagement in city, county, and state-wide campaigns to address affordable housing/houselessness, economic development, health, and environmental issues in our community.
Local Policy
Our team of policy coordinators actively participate at City and regional policy tables to ensure there is a Native voice and perspective included in the policy-making processes. For example, NAYA advocates for the needs of the urban Native community in the budget-making processes at Multnomah County and the City of Portland.
COP 2021 State Legislative Agenda
COP 2021 Federal Legislative Agenda
State Policy
NAYA's Advocacy and Policy Leadership Team sets a state-wide policy agenda ahead of each legislative session with the approval of NAYA's Board of Directors. Our legislative priorities are based on community needs that we perceive through feedback and data from around Native American and Alaska Native communities. NAYA staff spend time at the state capitol to advance our legislative agenda.
2021 NAYA Legislative Agenda
Updated Sept. 8, 2021. Click here to view the status of bills pursued by NAYA during the 2021 legislative session, listed below; click on the title of the bill to learn more about the legislation. While not every item on NAYA's legislative agenda moved forward during the session, our team remains exceptionally proud of all of the community engagement, testimony, and dialogue that called much-needed attention to these issues. We will continue to push for the needs of Native people, both locally and across the state.
EDUCATION
HB 2590 Student Success in Higher Education – Passed.
HB 2835 College Benefits Navigator – Passed.
HB 2051 Youth Re-engagement – Passed.
HB 2052 Tribal Regalia – Passed.
ECONOMIC DEVELOPMENT AND PROSPERITY
HB 2551 / SB 82 Oregon IDA Initiative – Passed.
HB 2563 Oregon Growth Fund – Passed.
HB 2009 Foreclosure Moratorium – Passed.
HB 2678 Ranked Choice Voting – Failed.
HOUSING AND HOMELESSNESS

HB 2544 Unaccompanied Homeless Youth – Passed.
HB 2842 Healthy Homes – Passed.
HB 2100 Review of Housing Related Laws – Passed.
HB 3184 Long Term Rent Assistance Study – Failed.
HB 2578 Mortgage Interest Deduction – Failed.
HB 2163 Rental Assistance – Passed.
SB 79 Addressing Racial Disparities in Homeownership – Passed.
SB 5505 Local Innovation Fast Track Funding Request – Passed.
SB 8 Land Use Planning for Housing – Passed.
SB 852 Mortgage Interest Deduction – Failed.
FAMILY WELFARE
HB 2510 Safe Gun Storage – Failed.

HEALTH AND ENVIORNMENT
HB 2528 Licensing Dental Therapists in Oregon – Passed.
HB 2475 Energy Affordability – Passed.
HB 3089 Water Utility Assistance – Failed.
HB 2021 100% Clean Energy for All – Passed.
HB 2088 Traditional Health Workers – Passed.
HB 2377 Declares Racism as a Public Health Crisis – Passed.
SB 555 Double Up Food Bucks – Failed.
SB 587 Tobacco Retail License – Passed.
Community Advocacy
NAYA's policy and advocacy team wants to help you to be more involved in decisions that directly impact the Native American and Alaska Native community. We do this through a variety of engagement efforts throughout the year. We provide a list of endorsed measures that have gone through an extensive approval process. This process includes the policy team providing research and materials on how it will directly impact the Native American and Alaska Native community. Community members will have an opportunity each legislative cycle to provide testimony on the above endorsements.
2020 GENERAL ELECTION NAYA ENDORSEMENTS
NAYA's board approved the following ballot measure endorsements for the 2020 General Election.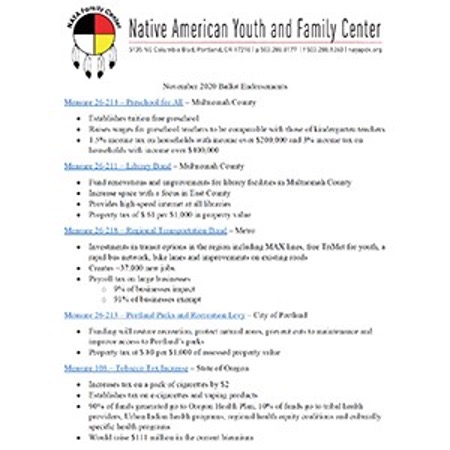 NAYA's Advocacy Team is available to support you in making your decisions and any questions you may have about the election.