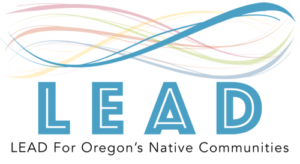 The Oregon LEAD Program is one of six culturally specific Leadership Development programs housed by the Coalition of Communities of Color (CCC) Bridges Initiative. This transformative program builds leadership capacity across Native communities throughout Oregon. Our goal is to help participants see themselves as leaders and access the leadership skills that they possess as well as building new skills to best support their work and community. In this program we are guided by the Relational Worldview Model that nurtures leadership by affirming cultural identity through supportive peer-to-peer relationships. Engaged cohort members work effectively together to create positive change throughout Oregon's Native communities. We seek to forge a collaborative network of Native leaders statewide to re-establish our interrupted cultural ways of knowing and being.
Oregon LEAD cohort members join a diverse group of individuals invested in seven months of interdisciplinary leadership, skill building, professional training, and networking opportunities. Upon completion, members graduate and join our Oregon LEAD Alumni network, which consists of eleven cohort classes of Native leaders.
The Oregon LEAD Program is currently in an alumni engagement process that will help reshape our program for years to come.

Back Left to Right: Hilary Gourneau, Simone Auger, Duane Lane, Jasmine Bissonette, Cherilynn Tsosie, Ashley Walker, Jason Umtuch, Silas Hoffer, Naduah Wheeler, Rebecca Fisher, Leanna McClure, Tam Lutz, Ezrah Whitman
Sitting Row: Chriset Palenshus, Jacqueline Semallie, Blake Hausman, Jillisa Suppah, Marnie Griffin, Natalyn Begay,
Front: Shilo George, Rebecca Descombes
Selection Criteria
Affiliation with an American Indian/Alaska Native tribe/band/Indigenous group (Does not require enrollment with tribe/band/Indigenous group)
Interest and readiness to find your voice and use it to build upon Oregon's Native advocacy efforts
Willingness to stretch your comfort zone and to try new things
Strong potential for increased leadership responsibilities
Full participation in all Oregon LEAD program activities