Personal message from Paul Lumley, CEO of NAYA Family Center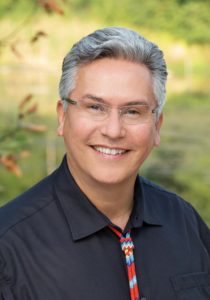 Dear Friends of NAYA: 
It is with deep respect and appreciation that I inform you that after more than six years as the CEO of the Native American Youth and Family Center (NAYA), I will be leaving to become the next CEO of Cascade Aids Project (CAP) and notably the first Native American and Two Spirit person to serve in the role in CAP's 35-year history. My last day at NAYA will be July 5th. 
I am indebted to CAP for their early response to the AIDS crisis, and for their leadership in the fight against HIV and AIDS. I am looking forward to being a part of CAP's future and growth. However, leaving my NAYA community is bittersweet.  
As you know, NAYA provides a range of education, health, housing, economic development, and community engagement programs that help our community create stability, continue their educational dreams, build prosperity, and find their voices in leadership and civic engagement. During my time here, I've had the pleasure to work with my colleagues, donors, and supporters to expand and strengthen NAYA's services, increase staff from 120 to 170, and doubling the budget to more than $20 million annually. 
With your help, we were able to provide critical resources during the pandemic, delivering 2,000 meals each week to elders and families isolated at home, distributing more than $3M in rental and energy assistance, and small business support, and providing vaccination and testing clinics for our community. I am also very proud of NAYA's work to bring three affordable housing properties to the Cully neighborhood, and of course, my heart swells for the students at our Many Nations Academy High School. 
NAYA is poised to continue its momentum and growth with its resourceful Board of Directors, experienced leadership team, determined staff, and a clear strategic plan and inspiring vision for the future. In 2024 NAYA will be welcoming the community home with its opening of Tistilal Village, its newest affordable housing development, and celebrating its 50th Anniversary. 
Later this month, the NAYA Board of Directors will announce an interim CEO and begin the transition process for a permanent CEO in the months ahead.  My departure from NAYA is in no way a negative reflection on NAYA. I love NAYA and will continue to support NAYA for many years to come. 
Thank you for joining me in NAYA's mission to provide affordable housing, education, homeless and social services, advocacy, and economic opportunities to our region's Native community. Although I'll miss the wonderful NAYA family, I know that NAYA is in good hands with our dedicated staff and partners like you.  
In deep gratitude, 

---