Honoring our Native American heritage
During National Native American Heritage Month we honor the gifts of our ancestors and celebrate our rich diverse cultures, traditions, and histories, while raising awareness about the unique challenges Native people have faced both historically and in the present, and the ways in which Native Americans have worked to rise above these challenges.
At NAYA, we celebrate tradition and culture year-round by providing intentional wraparound services that enhance our youth and families' diverse strengths, including empowering our community members' voices, so they can thrive and lead the way for future generations.
Get out the Native Vote
During this Native American Heritage Month we all have the honor of exercising our right to vote. Native people have experienced barrier after barrier to having our voices heard to have the needs of our community prioritized by politicians and governmental officials (see the history of Native Voting graphic below).
Voting is an incredibly important way to ensure you are a part of the decision-making process. On Tuesday, November 8th we have the opportunity to choose our state and regional leaders, and to vote on issues from providing affordable healthcare to all residents, to removing antiquated racist language, to changing Portland's government structure, to ensuring funds to protect our environment, make improvements in our schools, and community colleges. Read NAYA's November 2022 endorsements here.
History of Native Voting
The very foundation of this nation's democracy is based upon the Iroquois Confederacy, otherwise known as "The Great Law of Peace," making Native American influence and contributions to collective culture and society immeasurable. And yet, Native Americans have faced centuries of barriers to acquire full U.S. citizenship and legal protection of their voting rights.
One such barrier was the Dawes Act of 1887, which had disastrous effects on many tribes causing the loss of tribal land and culture through the distribution of tribal lands to non-Native homesteaders and the establishment of Indian Boarding Schools. In turn, Native people could receive citizenship on the condition that they gave up their tribal affiliations. It wasn't until the Indian Citizenship Act of 1924 that Congress granted citizenship to any Native Americans born within the United States, and many were still denied voting rights by state or local laws.
Our communities continue to contribute at all levels, from grass roots advocacy to holding regional, state, and national elected offices, building community-led mobilization efforts, and tirelessly working to encourage leadership and civic engagement.
Now more than ever, your voice and your vote are needed! During this critical election, please exercise your right and vote.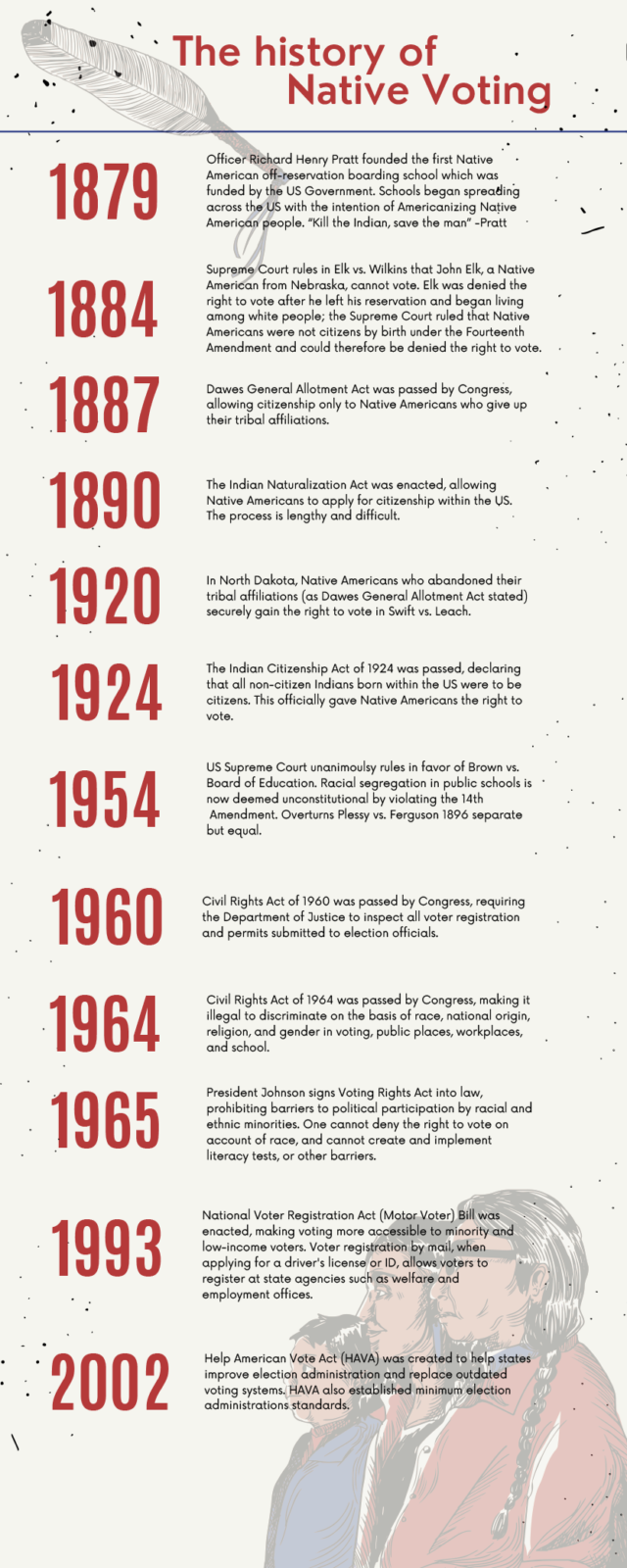 ---