The Many Nations Academy Class of 2022 
In an evening full of excitement, on June 10, six seniors walked across the stage to receive their diplomas at the Many Nations Academy (MNA) graduation ceremony. Congratulations, Class of 2022! Families, teachers and NAYA staff gathered to mark the special occasion, and we can't say it enough—the community is so proud of these youth, their achievements, and their bright futures ahead. 
This year a total of seven seniors obtained their high school diplomas through the MNA, although one graduate was not able to attend the ceremony due to a work conflict. NAYA's alternative high school that serves 9th–12th graders in a culturally-relevant, student-centered learning environment. Students proudly wore regalia during the graduation ceremony, providing moving and powerful statements about their identities and journeys. 
Judy Bluehorse-Skelton (Nez Perce/Cherokee), the evening's keynote speaker, said each student carries a profound gift. "This is an important time to be listening to your heart, listening to that inner voice that's inviting you to trust yourself. You're on a unique journey because you are not alone. You all have great courage to continue to show up and teach Elders. That reciprocal mentoring each of you offers helps the community feel loved and hopeful. Whatever reason you find that drives you, calls you, and carries you forward, listen. It can lead you to places you've never imagined," Bluehorse-Skelton said. 
NAYA CEO Paul Lumley told the students he would not be where he is today without a high school diploma. He touched on being homeless as a youth, and then attending an alternative high school. "I really wish that I could have gone to some place like NAYA. It really is a special place. Every day when I walk through these doors, I'm reminded about what an honor it is to have a safe space for our community and honor these amazing kids," he said, adding that he'd be making a $10,000 personal donation to the school. 
Despite the calendar school year having wrapped up, education doesn't stop during the summer months. For students looking to catch up on their work, NAYA offers summer school. This year, the school is offering a scaled down version of summer programming, said MNA Principal Lisa Otero. The summer courses are available to current MNA students; several are enrolled and completing a science credit recovery. Another handful of students are enrolled in a class focused on Native skills, including fire making, archery, and knife carving. 
Lastly, graduation would likely not be possible without support from the larger community, so we wanted to say thanks once more to everyone who donated or bid on an auction item during the Many Nations Academy Celebration in June. Because of your generosity, we raised more than $80,000 for our students and school. The theme of this year's celebration was "Honoring Our Students," and in their honor, we'd like to highlight our wonderful graduates in their own words:
Ei-shah S. Pirtle-Wright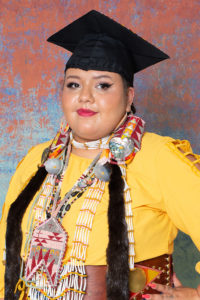 ("Ei", She/They)
I am an enrolled member of the confederated Tribes of Warm Springs, descendant of the Siletz people and adopted Klamath, Modoc. I first started my journey at the MNA late in my freshman year, but I have been involved with NAYA since I was 9 years old. It first started at the summer camps and afterschool program. I started these programs because my mom wanted me to get involved with the Native community here in Portland. I was a student that had a hard time at many public schools, constantly being moved around and not having any kind of sustainability. I found comfort in having Native staff, who have been through what I have experienced and have started their paths in healing our Native youth. I have many accomplishments that I have done. NAYA has helped a lot, but I didn't do it just for NAYA. I did it for my family, community, and myself. I will continue to be grateful every day and to do my best for my community, family, myself and for our future generations, and continue my higher education after I powwow and travel for a bit. 
Tashina Pamela Barbosa
(Kiowa Apache, Cheyenne, Jemez Pueblo, Oaxacan)
I enrolled in the Many Nations Academy in my first year of high school towards the end of the school year. Since attending the school, I've participated in quite a few extended programs connected with the Many Nations Academy and within the Native American Youth and Family Center itself. My family has been involved with NAYA for years through the critical housing services and family members who have attended the academy years prior to myself. I plan to study psychology and anthropology, and I have a deep passion for art, community, activism, and lateral leadership mediation. This is a quote from an artist who has left me more aware of what I do with my life and to be ready to let people be. I never thought much about folks in my life just passing through—I always get sad about these moments. I expect many people to stick around. Everyone and everything around me are constantly changing because it is part of the world.
"People change, just as I've changed. There is nothing permanent in the world, everything is just a happening passing through." – Agust D 
Chloe Marie St. Martin
(Cowlitz [Upper, Lower], Haudenosaunee [Mohawk, Seneca], Chinook, Yakama [Wiscum], Cayuse, Walla Walla, Métis, Cascade/Watlalas)
I started as a senior at Many Nations Academy. I found that the community was by far one of the factors of my own success besides my own drive to achieve high grades and a better GPA. The community at Many Nations Academy along with all of NAYA supported me through the year, and I know that if I need that support again, I can return. I even developed a sense of family at Many Nations Academy. My plan for next year is to start at PSU in late August with the Summer Bridges program; I'll be working towards gaining my Bachelor of Arts and majoring in Indigenous Nations & Native American Studies and at least a minor in English, if I don't end up double majoring. I want to complete college with the support of those that I consider family, the support of my Tribe, and the support of my community. After I finish college, I will pursue a job that serves the Indigenous community, working for the Cowlitz or here at NAYA one day, or simply serving the community in whatever way it needs. I am proud of myself for achieving high grades and defying the odds and others' perceptions of me. 
Sadie L. Fields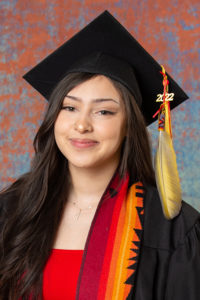 (My Dad's side is Creole, and my mom's side Caucasian)
I began attending NAYA MNA in 2020–21 remotely, and in person for 2021–22. So, I've been involved with NAYA for two school years. I heard about NAYA through a friend and contacted NAYA's MNA program. I always struggled with attendance, grades, and deadlines. MNA changed that for me since there is a smaller student body. I had more one-on-one time with the teachers, and therefore more motivation to get my work done, come to school every day, and get good grades. A skill that I have would be interior design. I've always loved organizing and decorating interior spaces. For this next year, I see myself building a foundation for my career in business. I'm proud of myself for how much I have adapted to adversity and how versatile I have become as a result.
"If I fall, dust it off and regain myself—They don't know all the pain I felt."– J. Cole, Change
Yocelin Gervacio-Hipolito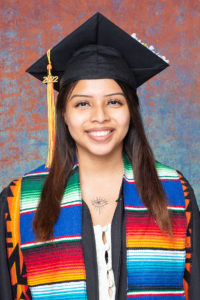 School has never been easy, and for my first two years at Benson Polytechnic, it wasn't even enjoyable. I arrived at NAYA in 2019, a fresh new start on my continuing journey. I had a plan, and it was going to happen, no matter how many nights I stayed up, or how many classes I stayed after for, I was going to graduate! I am an older sister of 6 other siblings and being a role model graduating is on my list of requirements. From my first day at MNA, I quickly noticed the advantages NAYA had to offer compared to my last school. Smaller classroom sizes, fewer students, and more one-on-one time with teachers who care about your success. Thank you to all the teachers and staff members who spent their personal time helping me! I wouldn't be able to reach my goal without all your effort and support! I can finally now say "I graduated" and prepare myself for my next journey.
Jisenya 'Sky' Johnson
Sky graduated in January from the Many Nations Academy. She joined the NAYA community in September 2019. Sky has a knack for science and did incredible lab reports. She wants to pursue a career in cosmetology, specializing in hair and make-up for film, video, and stage. 
Forrest Mars
Native Hawaiian
Forrest graduated in January from the Many Nations Academy. He has worked full-time over the last couple of years while also devoting time to completing the credits he needed to earn his much-deserved high school diploma. He is deeply devoted to his family and partner, Krystal (a 2021 MNA graduate). Forrest wants to have a future in real estate and business. 
And the Spirit of the Many Nations Academy Award goes to 
…
This award was created to show our gratitude and publicly honor an individual who exemplifies NAYA core values, is a champion of our youth and our mission, and is a staunch advocate for the power of education.  
This year the MNA staff honored Kitchen Manager Laura Booth as a pillar of the NAYA community. Laura has fed many generations of youth, elders, staff, and families, and with each meal has ensured a connection to the nourishment and love that everyone deserves. Both within the walls of the school and out in the wider community, Laura exemplifies the importance and impact of consistency, honesty, and kindness. The MNA and NAYA community thank her for always being "Auntie Laura". 
---