News release – Celebrating first summer of Resurgence School
Native Youth and Family Center celebrates first summer of Resurgence School
News release*
8/10/18
Portland, OR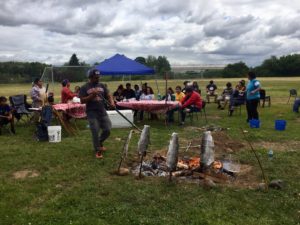 Above: Youth receive a lesson from Suzie Slockish at the salmon bake.
On August 3rd, the Native American Youth and Family Center celebrated its final day of Resurgence School – an experimental, project-based summer program that helps youth develop cultural and environmental knowledge while earning high school credit.
With funding from the National Urban Indian Family Coalition, NAYA designed the school to serve Indigenous youth with culturally specific and scientifically rigorous lessons that would get students outdoors, on the land, and in the water.
The program kicked off on July 3rd with a traditional salmon bake organized by Klickitat Chief Wilbur Slockish, who opened the meal with song and ceremony. The Slockish family also showed students how to prepare and cook the salmon in a traditional pit constructed at NAYA near its outdoor basketball court. Suzie Slockish, traveling from the Warm Springs Reservation, taught students about the order of sacred foods eaten in First Foods ceremonies, and how that sequence conveys practical information utilized to harvest these foods throughout the year.
Over the next four weeks students engaged in scientific, cultural, and environmental activities that included soil and water analysis, macroinvertebrate surveys, a medicinal plants walk, and field trips to Silver Falls, the Bull Run Watershed, and Breitenbush Campground. Camp organizers were happy to report that 100% of students successfully earned high school credit.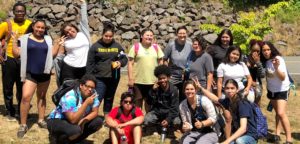 Above: Youth pose for a photo after hiking 5 miles at Cape Horn.
With an average attendance rate over 90%, student performance delighted organizers at NAYA's Early College Academy – who are currently working with partners to bring the Resurgence School model into the Early College Academy, which teaches 9th through 12th grade students.
"If it's the curriculum and atmosphere that caused this, then that excites me – because we are trying to bring this into the entire school year," says Laura Payne, a Resurgence School organizer and math teacher in the Early College Academy.
"It completely changes the structure of how you run a school," says ECA Principal Lisa Otero, "because instead of delivering students to teachers, you have students planning, investigating and delivering from within. Our goal is that our youth feel in charge of their learning – that it's their responsibility,"
Due to the factors like intergenerational trauma in residential schools, persistent poverty caused by forced relocations, and outright racism experienced in public schools, Native American students across the country have much lower graduation rates than their peers. In Multnomah County more than half do not graduate, and the most recent published figures show a 47.5% graduation rate for Native students in the county.
But with a combination of supportive teachers, small class sizes, and a culturally-focused curriculum, the ECA has been changing that – graduating 68% of its students on time last year, and 72% the year before. With the hands-on, culturally-specific, and project-based curriculum of the Resurgence School, the staff believes that rate could be even higher.
"The students have responded really well to the hands-on, experiential approach of the Resurgence School," says ECA science teacher Kristy Cordero. "It really helps to have something they can hold."
Above: Youth hike at Cape Horn.
*This release was published on Indian Country Today on Saturday, August 11th, 2018.
---